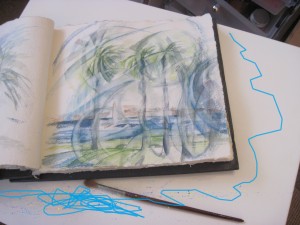 One truly knows they are in relaxation mode when the painting journal is resurrected and there is both the time and the creative energy to paint to my hearts content!  Fort Meyers Florida is an amazing place of strong gulf coast breezes and radiant sunsets to fill the heart and the soul.  Jon and I encountered many angels along the way, specifically in our dear longtime friends, Steve and Maggie. They are so very gracious!
This being said………….
I just might have to succumb to the snowbird magic and take up part time residence to explore and paint. In Florida,  the colors are radiant bursts of light in form  and vibrate with the songs of the many birds that Jon and I had the privilege of viewing in their natural homeland waters.  There were a plethora of pelicans, cranes and my very favorite blue herons.  The tree aviarys on the water (cannot for the life of me remember their actual name)  are vibrant with spots of color in the shape of many feathered friends.    We also were blessed to see manatees, dolphins and to my delight… no gators, even though I saw many alligator and turtle crossings.
This small watercolor painting, from my journal was done in front of Steve and Maggies house, where daily they wake to an incredible view of the Collusahatchee River from their front porch!   Palm trees, long walks, and the sound of water lapping against the docks rocked my soul deeper and deeper into the quiet of what a vacation can truly be when you have no agenda and no serious timelines to be on the go.  This was a magical, creative, spiritual experience of healing and joy.  I am grateful to this Divine oneness that holds all of us within this silence.  No doubt about it….we will return to this tropical haven.