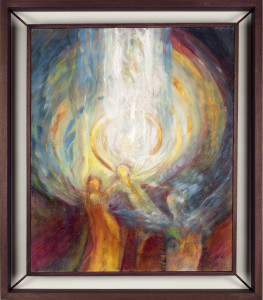 Q: Can I have an icon made if I do not have cremated remains?
A:  A loving tribute may be created without remains, based on photos and mementos, or a conversation about your loved one.
Q: How much cremation ash is needed and how is it handled?
A: Only a small amount of cremation ash is needed to be mixed in with the paint. (Approx. 1
tablespoon into a pill bottle is sufficient).  This way there is more than enough left to
scatter in the loved one's favorite locale or keep in an urn.  I have a sacred space within
my  home studio and will treat the ashes of your loved one with great reverence and
gratitude.
Q: How long does this process take?
A:  Because of the time it takes to prepare the board and the drying nature of many layers of
glazes being applied in this painting process,  your piece will take approximately 4
months.
Q: How much will this cost?
A: This depends on the size and complexity of your custom designed painting and the
materials used.
Q: How does the combined work of having a consultation in the Akashic Records and then
having a Soul Painting created benefit the individual for greater flow and for optimum
alignment in their life and in their work?
A: This transformational work creates a delicate balance between the seen and the unseen.  It
is, in it's very essence, an interior mirror of the reflected self and the vibration of it's form
coming forth from the true reality of it's design and oneness.
The Akashic Records assists one in defining and removing the blocks and impediments so
that the individual may see the beauty an magnificence in their inner design and the
oneness of that in the painting.
These inevitable alignments take place as the individual opens up to this  "glory us"
exchange of energy.  They can therefore access and recognize their "sacred signature"
through the fulfillment of the soul painting.
       "An open door is then created to new awareness, direction, possibilities and higher

manifestations of love and compassion for themselves and each other."
To discuss this process contact Teresa at:                                                        teresadunwell92@gmail.com
719-480-5261
I welcome all questions and I am available to meet with you or to talk with you on the phone.