What is a Soul Painting?
A soul painting by Teresa Dunwell is a portrait of your gifts and inner knowledge as signified through your oneness with every-thing.  It benefits you by illustrating your spiritual wisdom with codes of light.  Much like a personal tarot card, your painting radiates with icons of your empowerment.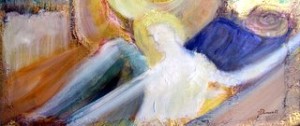 It holds and vibrates a unique spiritual message meant to be like a visual prayer, reminding you of your inner wisdom and guidance.  Each painting includes an intuitive interpretation by Teresa who is both a Level III reader of the Akashic records and a visionary artist.  Soul paintings make a great gift for yourself or someone else you love.  They are a perfect marker for life transitions such as a birthday, an anniversary, a new baby or for a business logo or a new life.
Energetic Soul Paintings (a soul signature) Each soul painting is unique to the individual that it is painted for.
Commissioned Soul Paintings are priced according to complexity, size and shape.

for more info. Contact Teresa

at 720-333-6306

 Akashic Record Reading with Commissioned Soul Painting

Though I do offer Akashic Records alone, I often suggest 1 or 2 sessions while doing your commissioned soul painting.  Many times as the painting is being worked on, new energies and awareness will open new doors.  As this happens, extra readings can enhance and facilitate further growth and expression thru the painting.  Click on FAQ'S for more info.
For long-distance arrangement…
As I access your information through prayer and guidance, distance makes no difference, and you do not have to be present.  An interpretation through accessing the Akashic Records will be given when the painting is finished.
Veiled Oil-
"Perfect compression never results in conflict, but in a state of transparent overlay," which is perfectly compatible with the magnetic core that attracts and holds its many compressions in place.  These are the various layers of transparency in our lives.  From that perfect state of compression, we can observe all other manifestations.  "Acknowledge where there is much transparent overlay of simultaneous awareness.  In the realm of life there is much rightness of purpose and oneness with God.  You will find that these areas are very rich with meaning for you.  Strengthen these things that all your life may expand with multi-layered simplicity."

From Love without End…. "Jesus Speaks"

– Glenda Green