What is a Soul Painting?
A soul painting by Teresa Dunwell is a portrait of your gifts and inner knowledge as signified through your oneness with every-thing.  It benefits you by illustrating your spiritual wisdom with codes of light.  Much like a personal tarot card, your painting radiates with icons of your empowerment.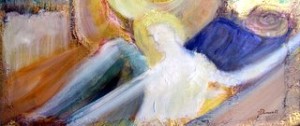 It holds and vibrates a unique spiritual message meant to be like a visual prayer, reminding you of your inner wisdom and guidance.  Each painting includes an Akashic reading  of 1 hr. by Teresa who is both a Level III reader of the Akashic records and a visionary artist.  Soul paintings make a great gift for yourself or someone else you love.  They are a perfect marker for life transitions such as a birthday, an anniversary, a new baby or for a business logo or a new life.
for more info. Contact Teresa
at teresadunwell92@gmail.com
on zoom……..
As I access your information through prayer and guidance, distance makes no difference, and you do not have to be present.  An interpretation through accessing the Akashic Records will be given when the painting is finished.