….Celebrate the spirit and honor the life of your deceased loved one
What is a Memorial Icon?
A hand-painted memorial of your loved one's eternal presence…..
A Memorial Icon can provide a private, ongoing way to honor the role of a special person or animal companion. When you choose this tribute of love, it will hold a place of honor and sacredness in your home. Your loved one's eternal Spirit for generations to come. Through a very delicate and sacred alchemical process, a small amount of your loved one's "cremains" (cremated ash remains), are integrated into the paint. This creative form keeps their brilliant essence and luminosity of spirit close at heart.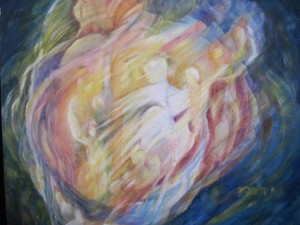 Each Memorial Icon is a special and unique representation, lovingly prepared and painted with oil glazes and gold leaf on exquisitely hand-crafted wood.
This painted image can be of a soul's luminous essence or a landscape of their favorite location.   You do not have to have their "cremains' to be able to have a painting done of their soul essence.  A photo of them will also work.
 Memorial Icons
 Note:  Paintings are priced according to complexity, size and shape.  Contact Teresa for more info.
Why Paint with Cremation Ash?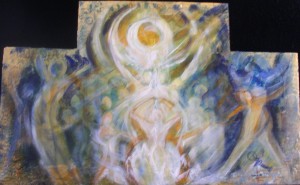 I have been led to create from this place of Spirit through the untimely death of my four-year-old son many years ago. Three years after his passing, I was processing my grief through a very intensive Renaissance process of painting and could feel a deep connection with his loving Spirit. A trusted friend helped me to realize that I was being asked by Spirit to paint my son.
When I inquired whether I was to paint him as a four-year-old, my friend replied that I was being asked to paint him as he is now, in all of his luminous glory. I have been painting from this place of deep awareness ever since. I feel truly blessed to have been given the grace and the painterly knowledge to act as a vessel and channel for the Spirit of deceased family members, friends and companion animals. This unique process of painting Memorial Icons has come from a deeper aspect of soul, which is Universal and all-encompassing with the Divine.
I invite you to journey with me in this incredible healing process, which is so dear to my heart and to my soul's intention.
Testimonials for Memorial Icon

What does Teresa need to begin working on your Memorial Icons and Commissioned Work?
Please send me one or two nice photos of the subject to my email.  Please ensure that the photos are in the highest resolution and quality possible.
A minimum deposit of 50% of the total payment is due up front, via Paypal or money order through ground mail.  You may also pay by credit card over the phone.  Visa, Master Card, American Express, and Discover Card are all accepted.  There is an added fee of 3.25% added to the sale to cover service fee.
Send me 1 tablespoon of companion animal or human cremains (ashes) in a pill bottle of a small container via ground mail.  This is legal by U.S. postal regulations if sent to me in a spill proof container such as an empty pill bottle.
Once the payment has cleared and I have received your subjects picture(s) and the ashes, I will begin the art and notify you when it is in its final stages.
Once the art is in the final stages of completion, I will send you a copy of the art so far and notify you through email or phone call.  I will then confirm your delivery address and require final payment.
Once the final payment has cleared, (total of 2 payments; deposit and final payment),  I will send the artwork to the address that is provided.
Please keep in mind that I will be using the art that I have created for you to put into my private and public portfolio.  This is a notice for you – the customer that I reserve all rights to my artwork.
For more information, please see the FAQs page and Contact Teresa.