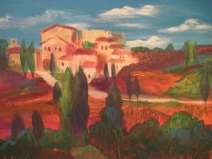 Every individual has the innate capacity to create and use their imagination to influence their life. Creativity is the gift that empowers us to see life clearly and consider potential solutions. Our power to make choices enables us to shape our life, work, communities and the world.
Private Lessons and Creative Coaching are Available
I offer classes throughout the year at my studio, at your residence or group center.
Teresa is an inspiring artist and wonderful teacher. Her teaching style is infused with spirit and freedom – I have always felt seen and nurtured as an artist while working with her. After taking lessons with her for years, I have truly been amazed at how varied the art of her students is. I think that this speaks to how well Teresa brings out the unique gifts and personality of each student while guiding each of us and helping us increase our knowledge and ability. Learning with Teresa is a special gift on so many levels! Karena Lindell
Teresa Dunwell—Art Enrichment
Teresa is a multi-talented artist dedicated to teaching children and adults to find their own unique gifts and have the confidence to "shine."
Her desire and focus has been to nurture and support each individuals unique and creative Spirit within. In the past 18 years she has given her students the tools to become self-confident, positive, artistic, and resourceful.
As well as teaching both children and adults, Teresa has exhibited at the Denver Performing Arts Center, the Mahler Exhibit and her work is in offices and residences of healing throughout the world.
Teresa meets me where I am physically, emotionally and spiritually. She has helped me build momentum and continuity in my practice of painting. She breaks down the blocks created by rules so that I am able to access and explore my own creativity. Our work together is expanding my creative expression and building my confidence with technique and color. I am loving it!! Jody

Painting with Teresa Dunwell is a life altering experience. One that will awaken you to your true self—Simply awesome! Danny – Personal coach

Call Teresa at

719-480-5261